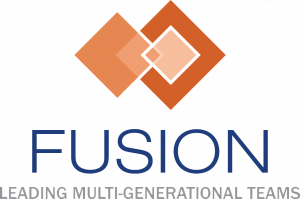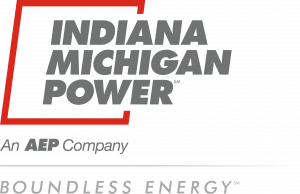 Fusion: Leading Multi-Generational Teams is a hands on journey to a better understanding of generational differences.
Using Shafer Leadership Academy's innovative, and proprietary, Generational Game Board, participants will explore the various social, political, and economic influences that shaped the working attitudes of the Greatest Generation, Baby Boomers, Generational X, Millennials and now Generation Z. Shafer's game creates interesting, and informative, conversation among participants from various generations. 
This workshop will equip participants to be more effective communicators and leaders through understanding the various generations in the workplace today. Our goal is to create "win-win" solutions that promote inter-generational understanding and result in positive workplaces and communities.
What Makes This Training Different?
Fusion is unlike any generational training you have attended. First, our Generational Game Board, is a unique approach to tackling generational differences.  We use the Game Board as a tool for helping participants better understand the worldview of each generation.  In addition, the Game Board makes for a highly interactive, and entertaining, way to learn.
This isn't an another Power Point presentation, or "Sage on the Stage" lecture. 
The program will fly by as you engage in stimulating conversation about your childhood, your parents, your grandparents, your children and maybe even your grandchildren. This program isn't about us, it's about you.  Our Game Board helps you make a personal connection to the material.
You may have heard this information before, but we guarantee you've never had this kind of experience.
An appreciation of each of the major generational groups active in the workplace today
An overview of the challenges and opportunities multi-generational teams present
Insights regarding the world views, needs, and skill sets of various generations
An understanding of how to facilitate effective collaboration among multi-generational group members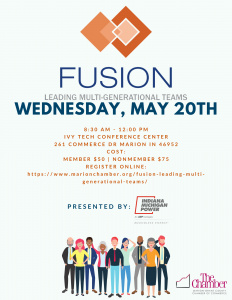 Fusion will be offered at Ivy Tech Community College Conference Center on Wednesday May 20th from 8:30 a.m. – 12:00 p.m.  
A continental breakfast, refreshments, and mid-morning snack is included with your registration.
The cost for members is $30 and for non-members the cost is $50.  Once registered, Rhonda will send an invoice for payment.